Nuoto nei college Americani
NEGLI STATI UNITI, IL NUOTO RAPPRESENTA UNO DEGLI SPORT DI PUNTA. LA STORIA DI QUESTA NAZIONE RACCONTA COME LA CULTURA E LA COMPETENZA TECNICA SIANO L'ARMA VINCENTE PER VALORIZZARE IL TALENTO. TUTTO INIZIA DAL COLLEGE
Sono tantissimi gli Studenti-Atleti, formatisi nel campionato collegiale americano, che vantano Record del Mondo, Record Europei, medaglie alle Olimpiadi e nelle manifestazioni più importanti. I più recenti Studenti-Atleti Americani laureati nei college sono Katie Ledecky e Caeleb Dressel, rispettivamente da Stanford University e University of Florida.
Su tutti, Michael Phelps è l'icona del nuoto mondiale e americano per eccellenza, anche lui ha fatto parte della squadra universitaria dell' University of Michigan.
Gli Stati Uniti sono i leader di moltissimi sport. Grazie soprattutto alla loro cultura sportiva ed il complementare sistema universitario, che partecipa a formare tutti gli atleti, fanno vedere il massimo e padroneggiano in quasi tutte le discipline del nuoto in vasca.
Attuali leader mondiali al femminile sono: Katie Ledecky, Simon Manuel, Regan Smith, Olivia Smoliga, Lilly King, Annie Lazor, Kelsi Dahlia, Melanie Margalis e Ashley Twichell.
Attuali leader mondiali al maschile sono: Caeleb Dressel, Robert Finke, Ryan Murphy, Andrew Wilson, Chase Kalisz e Jordan Wilimovsky.
I risultati degli atleti sono ovviamente conseguenti anche a meriti degli allenatori. La cultura americana fornisce una formazione di altissimo livello a tutti gli allenatori universitari.
Lo staff tecnico è formato da molte figure: Vi è un Head Coach che si occupa di coordinare gli allenamenti di tutta la squadra e di seguire in prima persona gli atleti di punta. Vi sono poi diversi Assistant Coach, solitamente ex nuotatori (come spesso accade per gli Head Coach) che seguono e assistono gli allenamenti, infine vi sono allenatori volontari, giovani ex- atleti, che aiutano gli Assistant Coach con i cronometri, le video-analisi e la gestione del gruppo.
Oltre alla capacità nel programmare e far sviluppare le capacità condizionali, un ulteriori elemento presente nel bagaglio tecnico degli allenatori, che rende moltissimo nell'accrescere il talento dello Studente-Atleta è l'analisi biomeccanica. Vengono usati strumenti di ultima generazione per analizzare e migliorare la tecnica del gesto atletico ed i valori di forza, velocità e resistenza.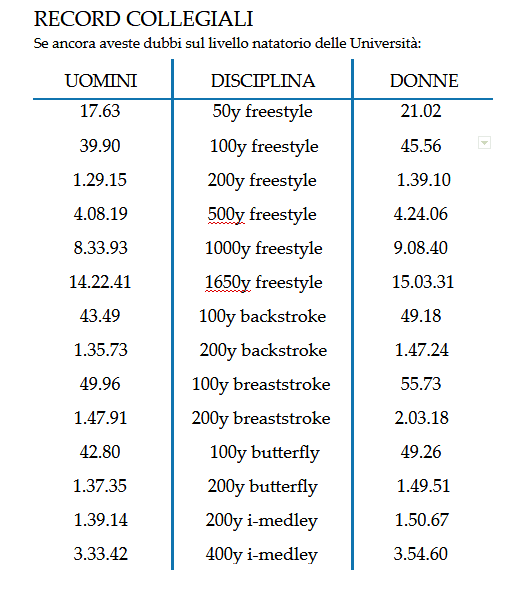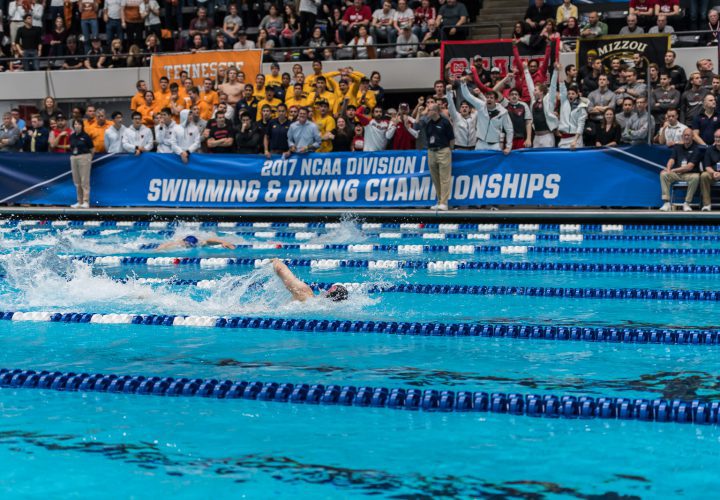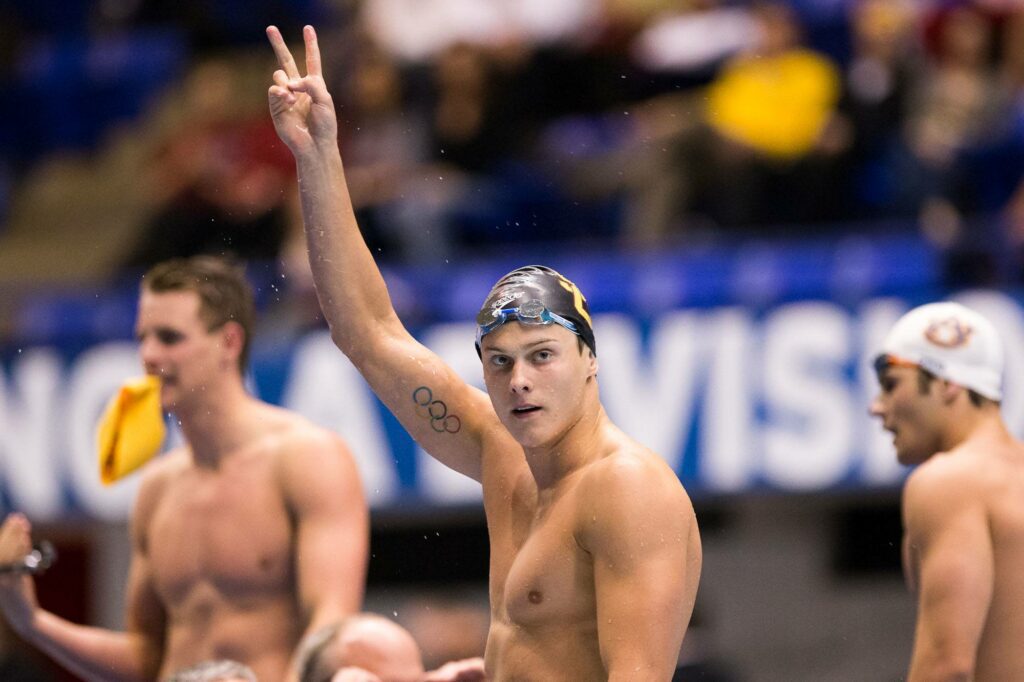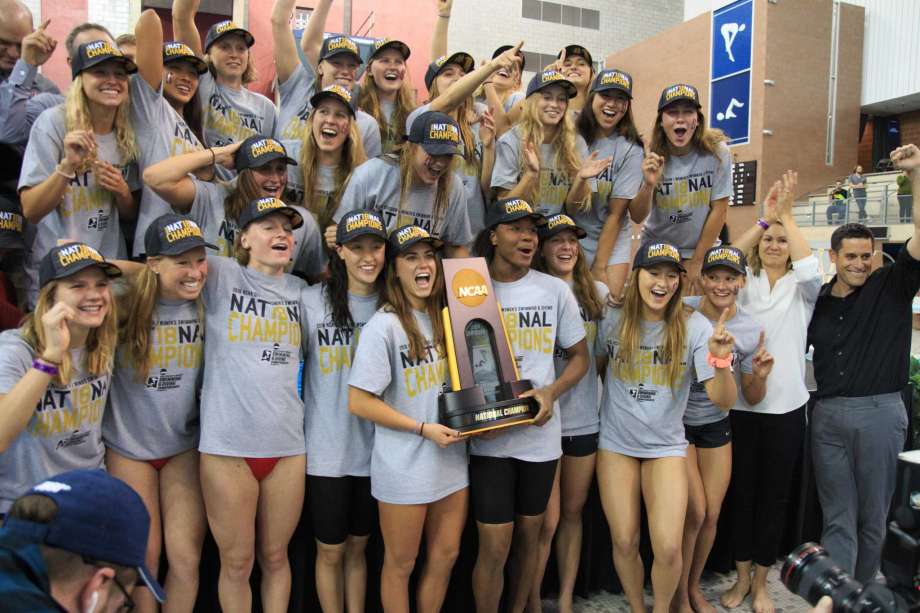 I CAMPUS AMERICANI VANTANO LE MIGLIORI STRUTTURE DI ALLENAMENTO NEL MONDO. OGNI UNIVERSITÀ OLTRE AD AVERE UNA PISCINA DA 25YARD OFFRE ANCHE STRUTTURE ALL'AVANGUARDIA PER ALLENARSI IN PALESTRA O ALL'APERTO IN VASCHE DA 50M
Variano di dimensioni a seconda del livello sportivo della singola università. Le piscine interne sono da 25yard tutte e quasi tutte hanno spalti per ospitare visitatori e tifosi.
Molte Università si avvalgono di un centro acquatico all'aperto con vasche anche da 50yard o 50 metri per ospitare Trails e competizioni nazionali al di fuori del mondo universitario.
La palestra viene spesso condivisa con altri sport, ognuno dei quali segue i propri orari. Le postazioni sono tantissime, vi sono sempre allenatori che assistono tecnicamente gli atleti.
Ogni Università offre staff medico e strutture per prevenire e curare gli infortuni. Sono tantissimi gli specialisti della riabilitazione sportiva disponibili ad aiutare gli atleti.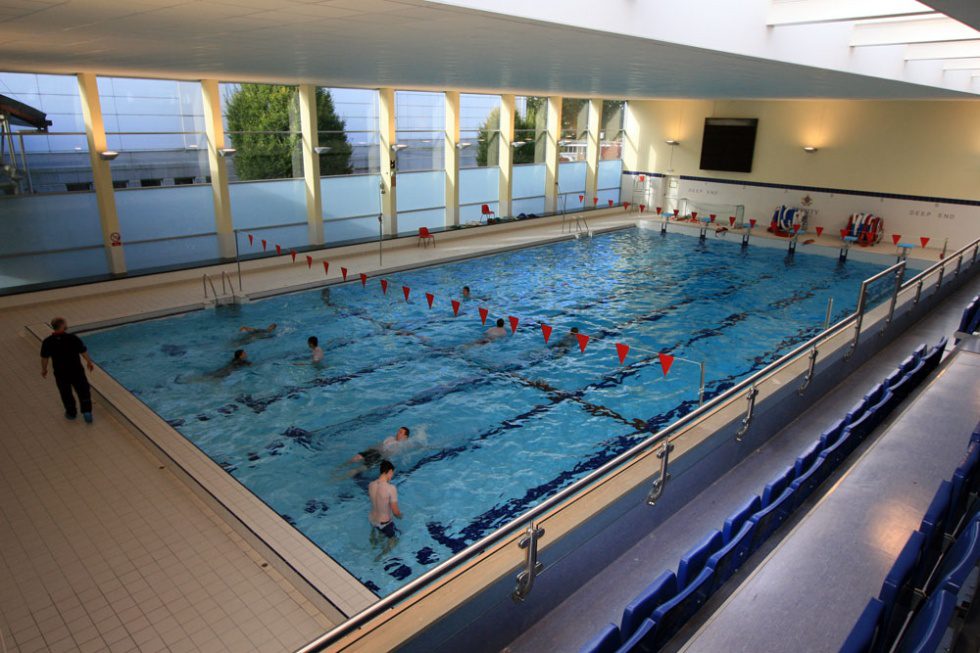 I CAMPUS AMERICANI SONO COSTRUITI PER RENDERE PIÙ CONFORTEVOLE POSSIBILE LA VITA DEGLI STUDENTI. CAMBIANO IN BASE ALLE DIMENSIONI, CHE VARIANO DAI 2 MILA AI 30 MILA STUDENTI-RESIDENTI, MA TUTTE LE UNIVERSITÀ OFFRONO SERVIZI DI ALTISSIMO LIVELLO
Ogni università offre diverse tipologie di alloggi. Le camere possono essere singole, doppie, multiple e vengono condivise con studenti-atleti internazionali.
Oltre ad una o più mense, in ogni campus sono presenti bar e fast-food ideali per ogni tipo di dieta o intolleranza alimentare.
La dimensione delle aule varia molto a seconda del corso di studio e delle classi che si frequentano.
Ci sono diverse biblioteche ed ogni Facoltà dà modo di usufruire liberamente sia del materiale didattico che degli spazi.