In the United States, swimming is one of the flagship sports. The history of this nation showcases how culture and technical expertise are the winning combination for nurturing talent. It all begins with college.
Countless student-athletes who have emerged from the American collegiate swimming championship have achieved World Records, European Records, Olympic medals, and success in major competitions. Among the recent American college graduates, Katie Ledecky (Stanford University) and Caeleb Dressel (University of Florida) stand out.
Michael Phelps, the ultimate icon of world and American swimming, was also part of the University of Michigan's collegiate team.
The United States leads in numerous sports, owing to their sports culture and the complementary university system that plays a vital role in developing athletes. They excel and dominate in nearly all swimming disciplines.
Current female world leaders include Katie Ledecky, Simone Manuel, Regan Smith, Olivia Smoliga, Lilly King, Annie Lazor, Kelsi Dahlia, Melanie Margalis, and Ashley Twichell.
Current male world leaders include Caeleb Dressel, Robert Finke, Ryan Murphy, Andrew Wilson, Chase Kalisz, and Jordan Wilimovsky.
The athletes' achievements are undoubtedly attributed to the merits of their coaches. The American culture provides exceptionally high-level training to all university coaches.
The coaching staff consists of various roles: there is a Head Coach who oversees the training of the entire team and closely guides the top athletes. Several Assistant Coaches, often former swimmers themselves (as is frequently the case for Head Coaches), assist and support the training sessions. Additionally, there are volunteer coaches, young former athletes, who assist the Assistant Coaches with timing, video analysis, and group management.
In addition to their ability to plan and develop conditioning abilities, another valuable aspect of coaches' technical expertise that greatly enhances the student-athlete's talent is biomechanical analysis. State-of-the-art tools are used to analyze and improve the athletic technique, focusing on strength, speed, and endurance values.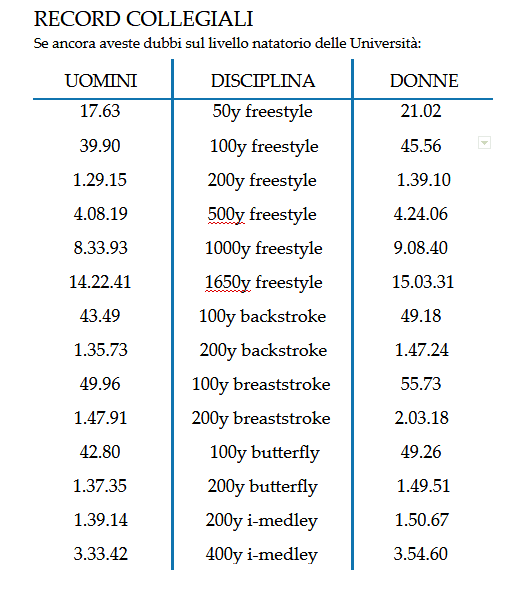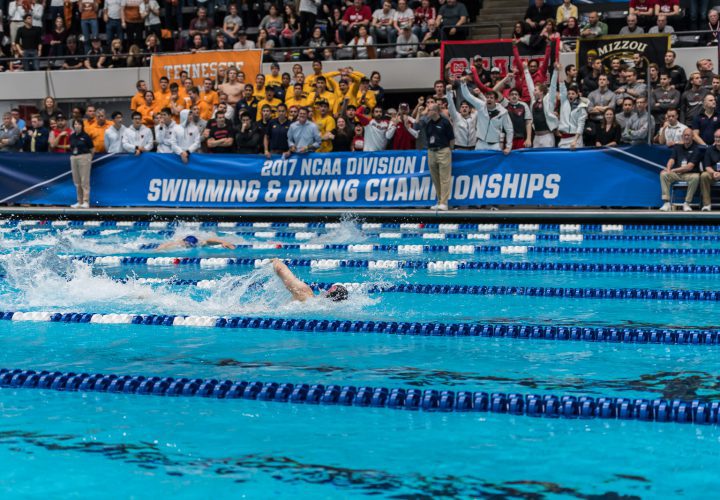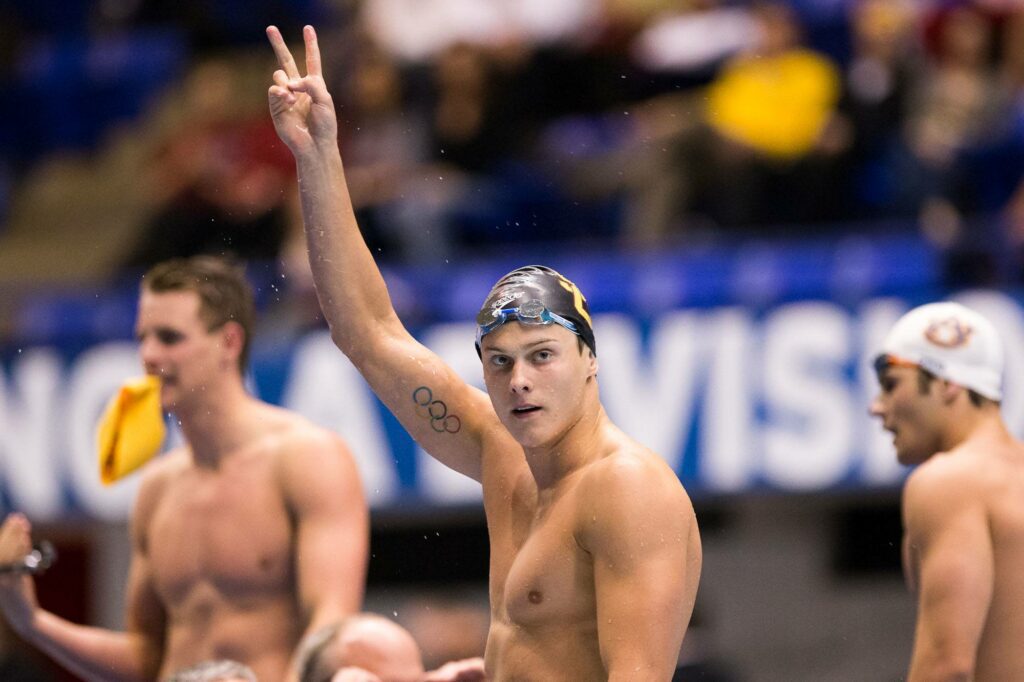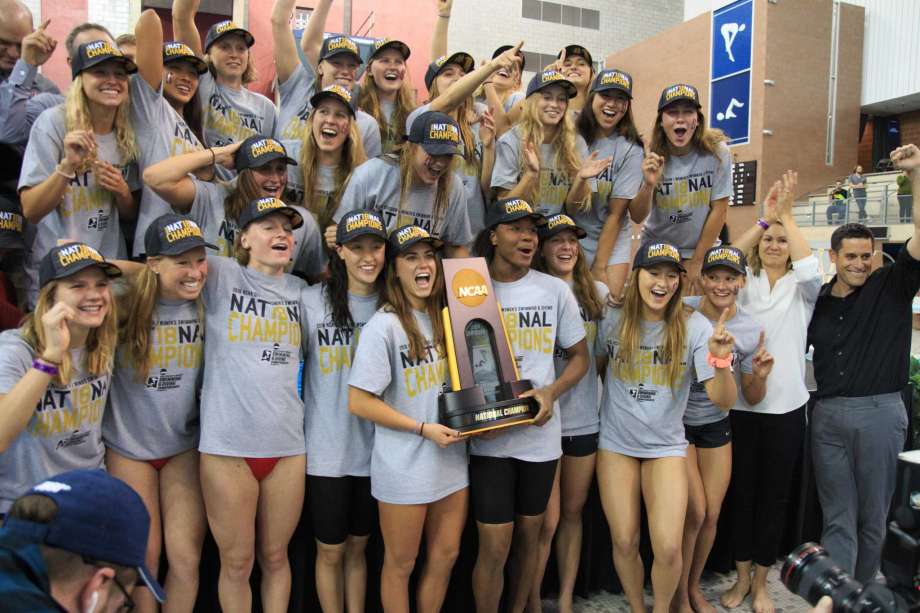 American campuses boast the world's best training facilities. In addition to having 25-yard swimming pools, each university offers state-of-the-art gymnasiums and outdoor training facilities with 50-meter swimming lanes.
The size of the facilities varies based on the sports level of each university. The indoor swimming pools are typically 25 yards in length, and most of them have spectator stands to accommodate visitors and fans.
Many universities have access to outdoor aquatic centers with pools measuring 50 yards or 50 meters, which are used for hosting trials and national competitions outside of the collegiate realm.
The gym is often shared with other sports, each following their own schedules. There are numerous workout stations, and coaches are always available to provide technical assistance to the athletes.
Every university provides medical staff and facilities to prevent and treat injuries. There are numerous sports rehabilitation specialists available to assist athletes.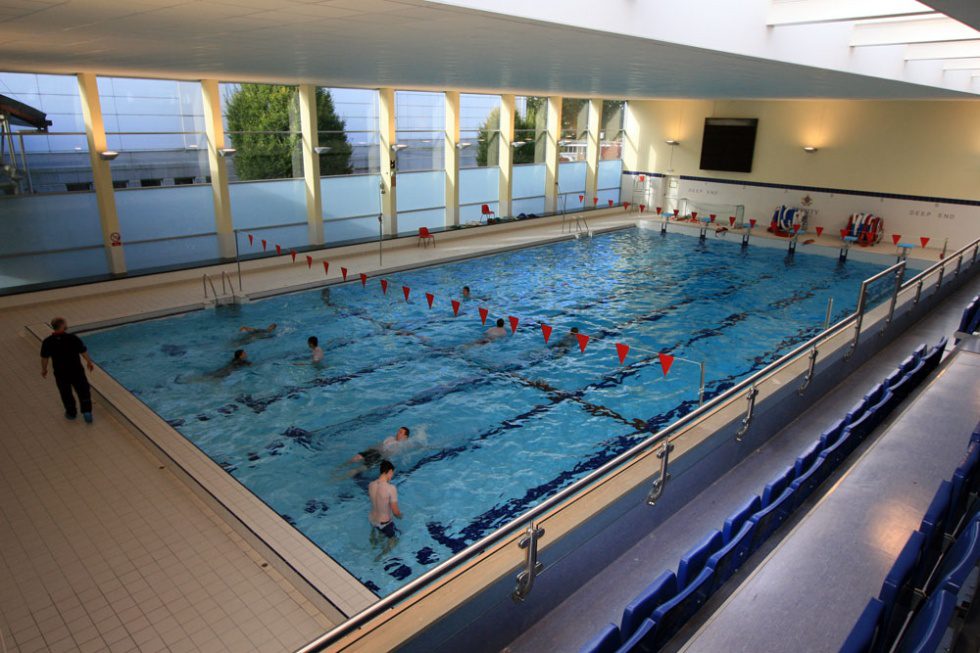 American campuses are designed to provide the most comfortable living experience for students. They vary in size, ranging from 2,000 to 30,000 resident students, but all universities offer top-notch services.
Each university offers various types of accommodation. Rooms can be single, double, or shared with international student-athletes.
In addition to one or more dining halls, every campus features bars and fast-food options suitable for various dietary needs and food intolerances.
The size of classrooms varies greatly depending on the course of study and the classes being attended.
There are multiple libraries, and each faculty provides free access to educational materials and spaces for students to utilize.