PLAY SOCCER
IN AN
AMERICAN COLLEGE !
In the United States, men's soccer is experiencing significant growth, and the level of women's soccer is considered to be among the highest in the world. College teams play a vital role in the development of soccer players, as they are often scouted by professional teams of the MLS, similar to how youth teams are used in Italy to identify and nurture talented players.
In the United States, the pathway for soccer players to develop and advance their careers is quite different from that in Europe. American players have the opportunity to begin their careers in college leagues such as the NCAA, NAIA, or NJCAA, while also earning a degree through sports scholarships. After completing their education, they are then able to pursue professional careers in soccer. Each year, professional teams in the United States select the top college players through the MLS Super Draft. Many of these players go on to have successful careers in the MLS or even in European leagues.
Furthermore, the United States has a strong tradition in women's soccer, and many of the top players in the world have developed their skills and talents in American college leagues. Notable examples include Alex Morgan, Carli Lloyd, and Megan Rapinoe, all of whom began their careers in American colleges before going on to become world champions.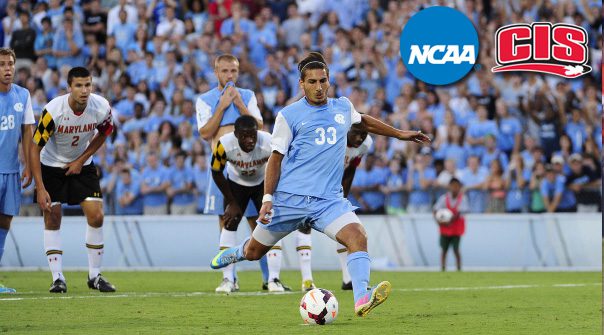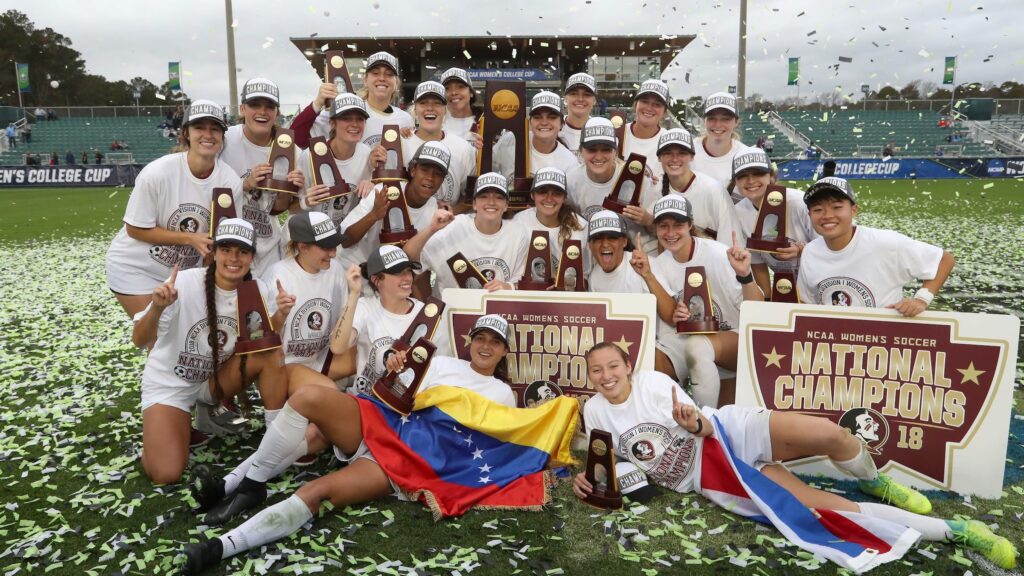 The college soccer season begins in August with a three-week athletic preparation period and continues until late November with individual "Conferences" and further in the event that the team reaches the "Nationals" by winning the playoffs of their respective "Conference."
Collegiate teams compete against each other in various conferences, which typically group colleges within a state (for example, the Sun-Conference is that of Florida where all university teams in Florida compete in a league).
Once the league season is over, the top 8 teams compete in playoffs, and the winner will move on to play in the Nationals, where the winners of all the conferences play against each other.
To better understand the American college sports system, it's important to start by discussing the three different leagues that make it up: NCAA, NAIA, and NJCAA.
The main difference between the leagues is that the first two (NCAA and NAIA) are leagues that include four-year colleges and universities that once completed, grant access to a bachelor's degree.
The NJCAA league includes what are known as junior colleges, which are two-year institutions that grant access to an associate degree. Junior colleges allow international athletes to be admitted even with low English scores, allowing them to complete their studies at a four-year college in the NAIA or NCAA after completing their two years at the junior college (2 years junior college + 2 years four-year college = Bachelor's degree).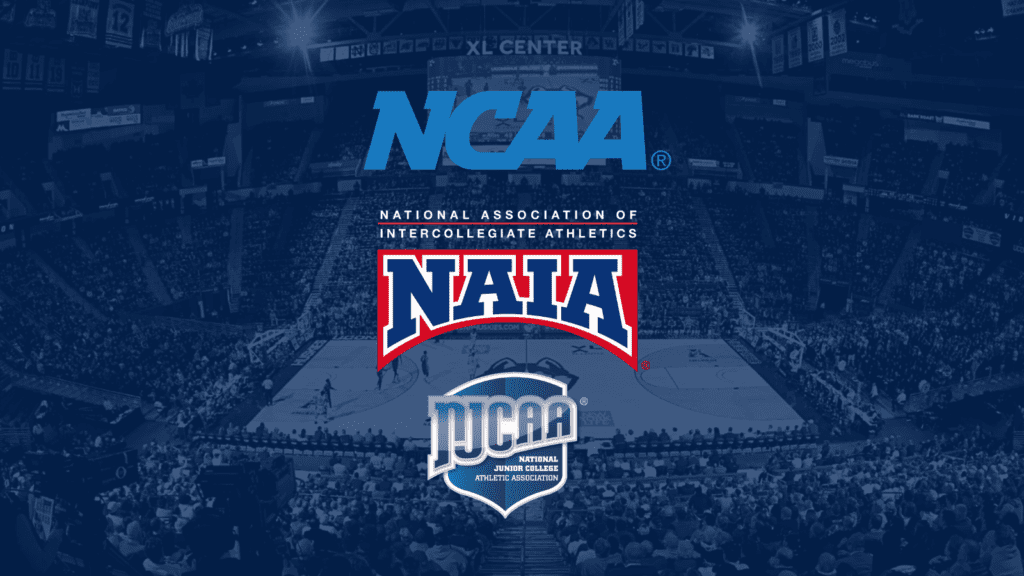 American college campuses boast some of the best sports facilities in the world, and it is hard to find teams in Europe with comparable facilities to any American university. The university facilities include grass and synthetic fields, state-of-the-art gyms, meeting rooms, lounges, massage rooms, swimming pools, and dining halls for athletes.
Soccer games, both for men and women, are attended by other university students who actively support the university's football team by cheering from the stands.
The locker rooms are the envy of European professional teams. Each player has their own locker room that is equipped with TVs, meeting rooms, sofas and chalkboards to help them prepare for championship games.
The gym is often shared with other sports, each of which follows its own schedule. There are many stations, and there are always coaches who provide technical assistance to athletes.
Every university offers medical staff and facilities to prevent and treat injuries. There are many sports rehabilitation specialists available to help athletes.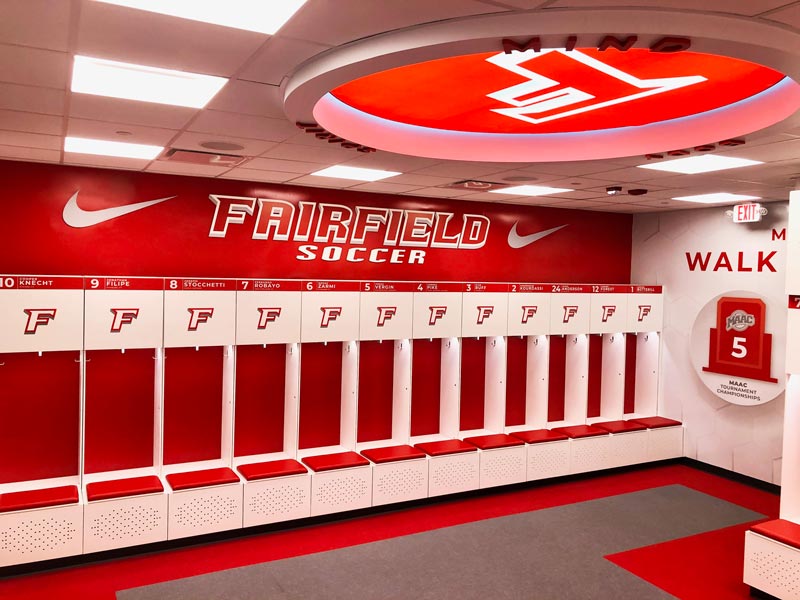 American college campuses are designed to make student life as comfortable as possible. They vary in size, from 2,000 to 30,000 resident students, but all universities offer high-level services.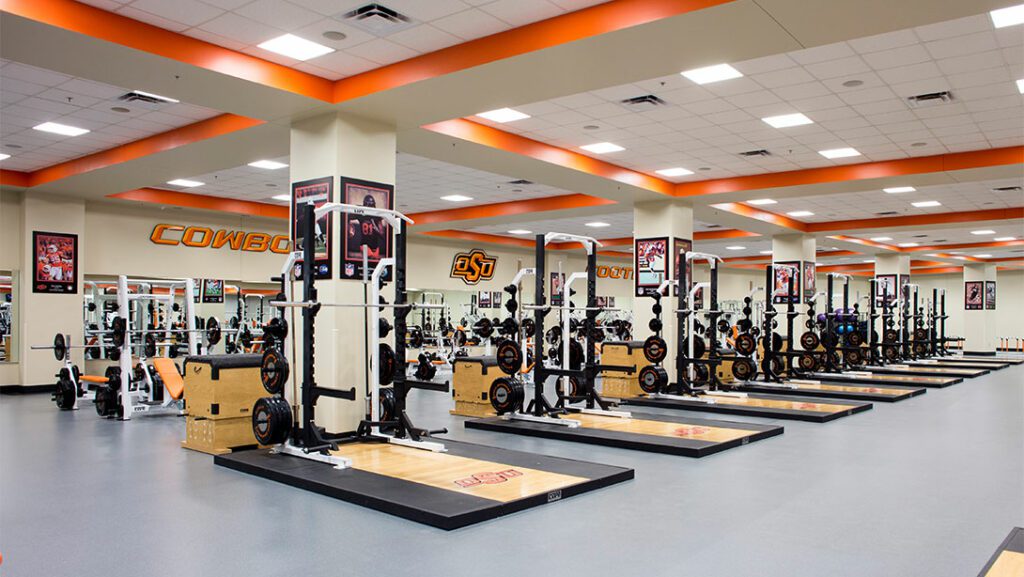 Each university offers various types of housing. Rooms can be single, double, or shared with international student-athletes
Each university offers various types of housing accommodations. Rooms can range from single, double, or multiple occupancy and are often shared with international student-athletes. In addition to one or more dining halls, campuses also feature bars and fast-food options to cater to a variety of dietary needs and allergies.
The size of the classrooms varies greatly depending on the field of study and the classes being taken.
There are many Libraries across campus that the students have access to!