Track and field
in the
United states of america
Track and field is one of the most prominent sports in the United States. The nation's history highlights how culture and technical expertise are key in showcasing talent, and it all begins at the college level.
ATHLETES- Track and Field
It's important to know that there are countless American athletes who have achieved world records, European records, Olympic medals, and other prestigious titles. Mondo Duplantis is the latest athlete to break a world record in the indoor pole vault. Prior to him, Dalilah Muhammed broke the world record in the 400m hurdles. Recent champions in sprint events include Christian Coleman, Noah Lyles, Justin Gatlin, Andrè De Grasse, Brittany Brown, Tori Bowie, Phyllis Francis, and Allison Felix. The 400m and 4×4 relay are the disciplines that best represent the United States' domination in track and field, with athletes like Michael Johnson, Michael Norman, Jeremy Wariner, LaShawn Merritt, and Fred Kerley leading the way.
In hurdles, Grant Holloway and Rai Benjamin are joined by Nia Ali, Kendra Harrison, Sydney McLaughlin, Kerron Clement, Aries Merritt, and Brianna Rollins to complete the picture of the best hurdles school in the world. American universities are also becoming increasingly strong in middle-distance events, with Donovan Brazier, Raven Rogers, Ajeè Wilson, Emma Coburn, Mohammed Ahmed, Jennifer Simpson, Matthew Centrowitz, Evan Jager, and Paul Chelimo leading the way.
In jumping events, the USA remains dominant in long and triple jumps, with Christian Taylor, Will Claye, Jeff Henderson, Britney Reese, and Tianna Bartoletta as the latest expressions of these extension jumps. American universities are also becoming the global cradle of high jumps, especially in pole vaulting, with world-class pole vaulters like Sam Kendricks, Sandi Morris, and Ekaterini Stefanidi.
While throwing events have traditionally been dominated by Eastern European countries, American universities have produced successful athletes like DeAnna Price in the women's hammer throw and Ryan Crouser and Joe Kovacs in shot put. Javelin and high jump remain difficult disciplines for the United States to overcome, but Anderson Peters has shown that combining talent and training can lead to success even as a student. Finally, the United States has a strong tradition in multi-events, with athletes like Ashton Eaton, Jackie Joyner-Kersee, Maicel Uibo, Lindon Victor, and Bryan Clay making history in this discipline.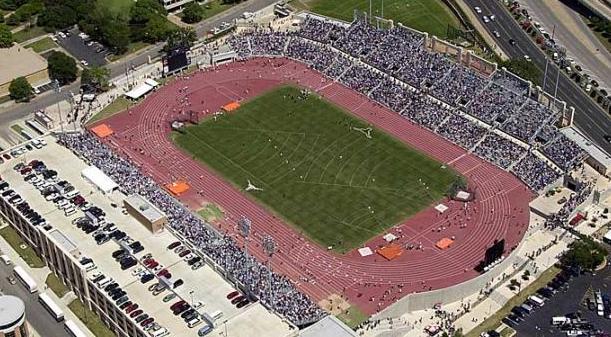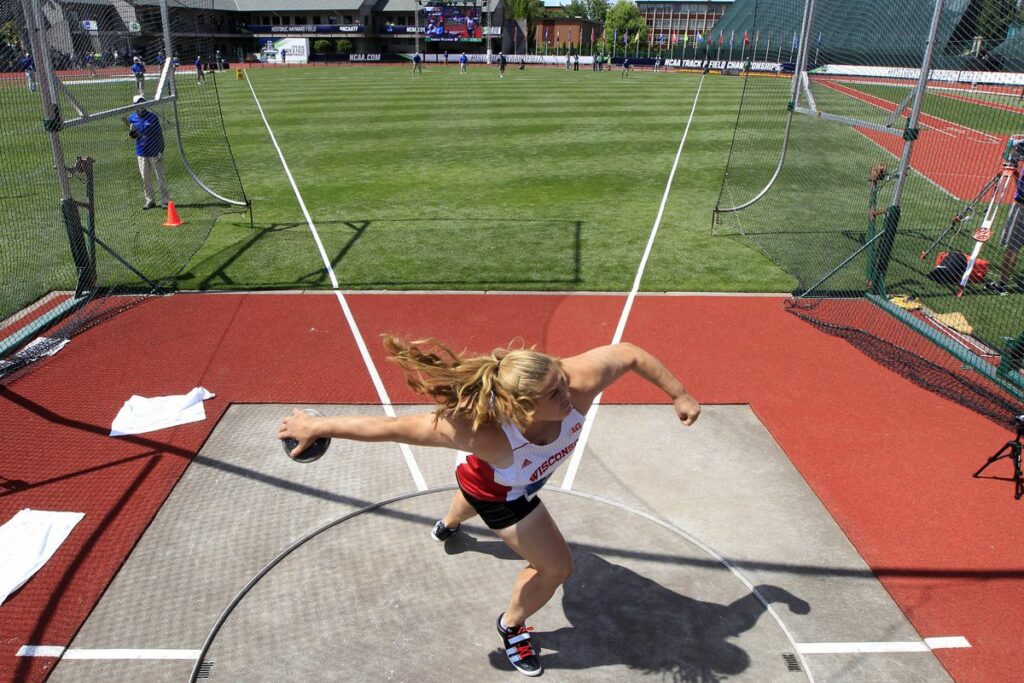 American universities have the best athletic training facilities for track and field worldwide. They offer not only outdoor tracks but also advanced indoor facilities for training, including tracks and gyms.
Having indoor training facilities is essential for some universities due to their climate, especially during winter months. These universities also have dedicated areas for throwing events.
The size of the tracks varies according to the athletic level of each university. Some tracks have 8 or more lanes and can accommodate up to 100,000 spectators.
The gym is often shared with other sports teams, who have their own schedules. There are many workout stations available and coaches are always present to provide technical assistance to the athletes.
Every university provides medical personnel and facilities to prevent and treat injuries. There are numerous sports rehabilitation specialists available to assist athletes.
American campuses are designed to provide maximum comfort to students. They vary in size, from 2,000 to 30,000 resident students, but all universities offer high-quality services.
Universities offer various types of accommodation, ranging from single to multiple occupancy, and are shared with international student-athletes.
Every campus has not only one or more dining halls, but also bars and fast-food restaurants that cater to various dietary needs and food intolerances.
Classroom sizes vary widely depending on the field of study and the specific courses being taken.
There are multiple libraries, and each student can freely access both course materials, study spaces, computers and printers.