In the United States, volleyball is one of the most popular sports. The championships are highly followed throughout the campus, and during matches, the stands are filled with fans ready to support their team.
There are numerous student-athletes who have honed their skills in the American collegiate volleyball championship and have gone on to play in Europe and participate in the Olympics. Many Italian athletes have already earned athletic scholarships based on their sporting achievements.
Furthermore, due to the high level of the NCAA championship, there are many American student-athletes who, after graduating, have come to play in Europe and Italy. Examples include Kimberly Hill (Conegliano) and Haley Washington (formerly of Busto and soon to join Novara).
The United States is a leader in many sports, thanks primarily to its sports culture and the complementary university system that helps develop athletes and supports them throughout their journey.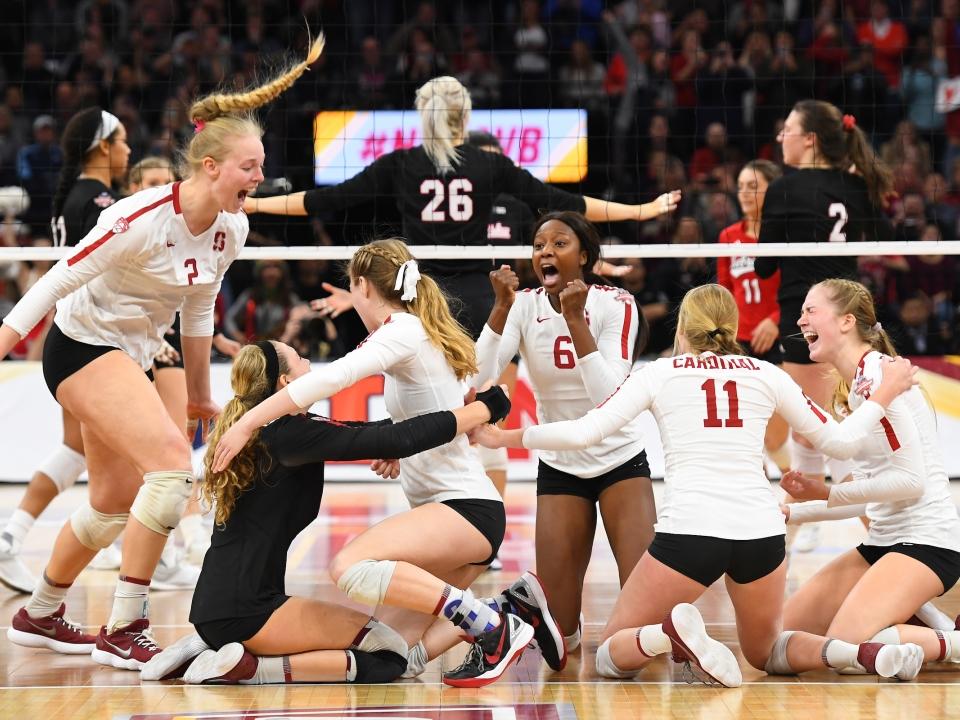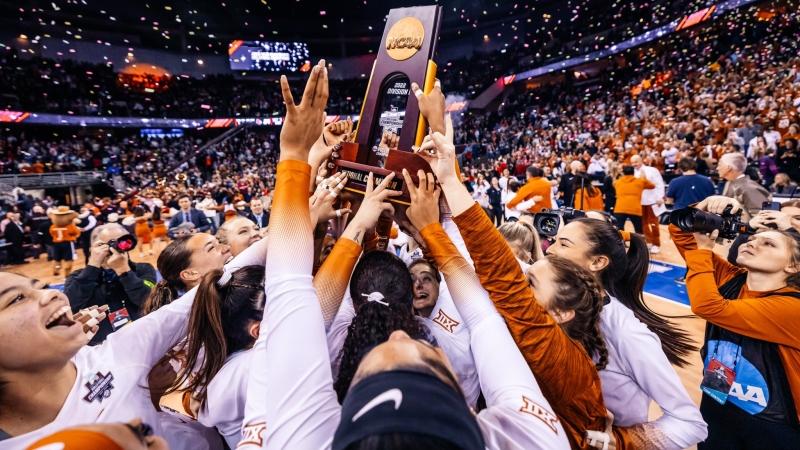 The athletes' results are undoubtedly influenced by the merits of their coaches. The American culture provides highly advanced training and education to all university coaches, along with state-of-the-art training facilities.
The coaching staff consists of several key roles. There is a Head Coach who oversees and coordinates the training of the entire team, closely guiding the top athletes. Additionally, there are several Assistant Coaches, often former players themselves (as is common for Head Coaches), who assist and support the training sessions. The team also benefits from the expertise of physiotherapists and athletic trainers who are available to provide support.
In addition to their ability to plan and develop the athletes' conditioning, coaches possess a valuable tool in their technical repertoire: biomechanical analysis. Cutting-edge tools are used to analyze and improve the athletes' athletic techniques, focusing on strength, speed, and endurance values.
The volleyball season typically starts in August, beginning with several weeks of athletic preparation and runs through December, including the conference tournaments and potentially further if the team progresses to the Nationals by winning their respective conference playoffs.
College teams compete within conferences, typically made up of universities in the same geographic region or state.
After the regular season, the top eight teams from each conference face off in playoffs, with the champion moving forward to the Nationals, meeting other winners from the different conferences.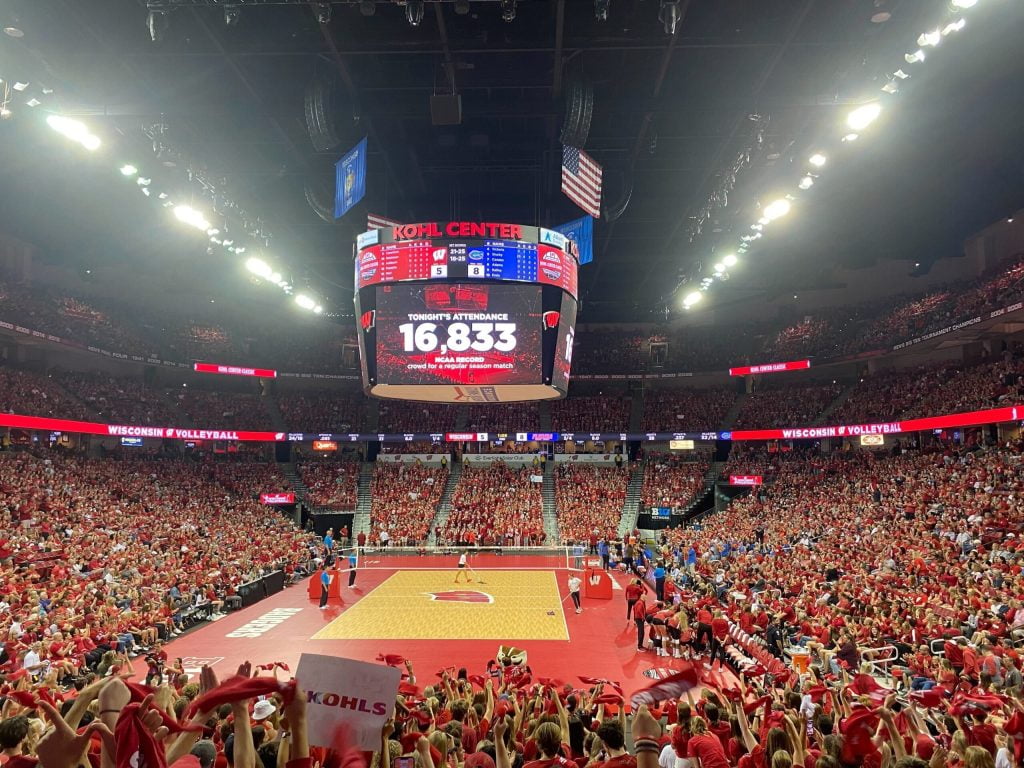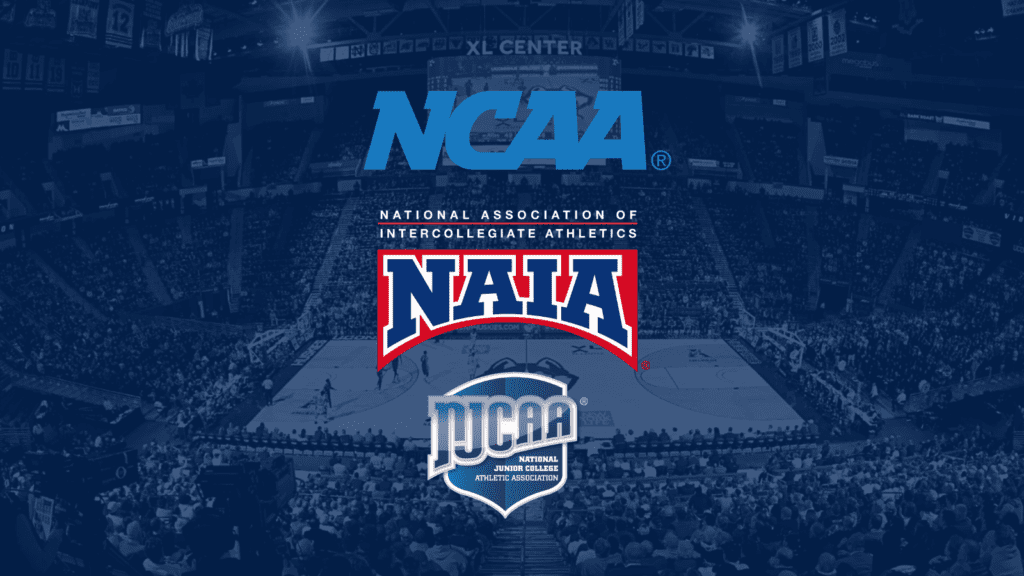 To better comprehend the American collegiate sports structure, we should start by exploring the three different leagues that make it up: NCAA, NAIA, and NJCAA.
The main difference between the first two leagues (NCAA, NAIA) and the third (NJCAA) is that the former two accept four-year colleges and universities, which upon completion provide a bachelor's degree.
The NJCAA league includes junior colleges, which last for two years and offer an associate degree. Junior colleges permit international athletes to be admitted, even with lower English scores, so they can then complete their academic path in an NAIA or NCAA college after they have finished their two years in a junior college (2 years of Junior College + 2 years of Four-year College = Bachelor's Degree).
American universities are widely acclaimed for their exceptional volleyball facilities, often rivaling those of professional volleyball teams in the FIVB World League.
The volleyball courts in these American universities, both indoor and beach, are meticulously designed to meet the highest standards. The indoor courts typically have hard surfaces with excellent traction, often composed of a synthetic material such as vinyl layered on top of concrete or a sprung floor, which helps to reduce the risk of injury and optimize player performance. The layout of the court, with its standard dimensions, marked boundaries, and net height, follows the guidelines set by the International Volleyball Federation (FIVB).
As a central hub for the athletes, the locker rooms are often spacious, allowing for easy movement and interaction between players. The individual lockers are built to comfortably accommodate personal belongings, game uniforms, and athletic equipment. 
The design and amenities of these locker rooms reflect the universities' commitment to providing their athletes with top-tier facilities, aiming to enhance both their performance on the court and their overall athletic experience.
The gym is often shared with other sports teams, each of which has its own schedule. There are numerous exercise stations available, and coaches are always present to provide technical assistance to the athletes.
Each university provides medical personnel and facilities to prevent and treat injuries. There are many sports rehabilitation specialists available to assist athletes.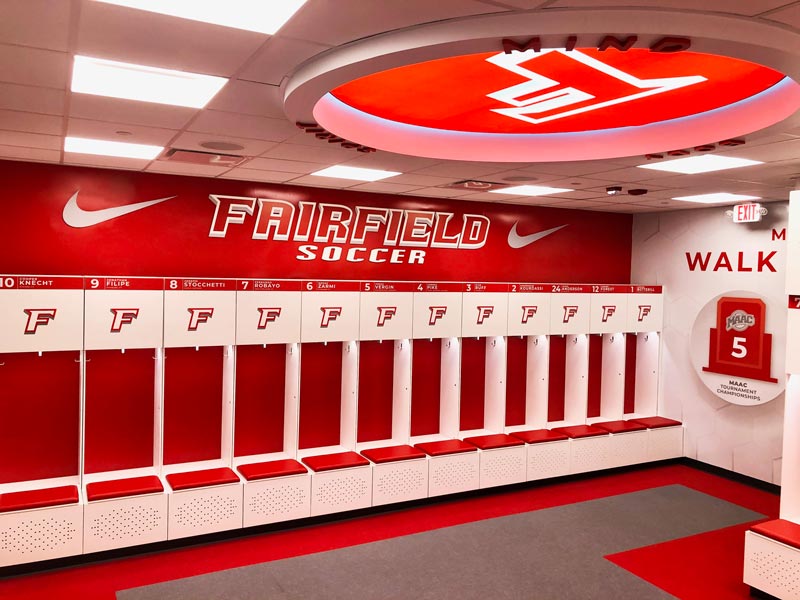 American campuses are designed to make the lives of students as comfortable as possible.
They vary in size, ranging from 2,000 to 30,000 resident students, but all universities provide top-tier services.
Each university provides different types of housing. The rooms can be single, double, or multiple, and are shared with international student-athletes. Depending on the university, these accommodations may be located on campus (residence halls) or off campus (apartments or houses). The choice of accommodation can greatly influence the student's experience, as it plays a crucial role in their academic success, social life, and overall comfort.
Additionally, universities often offer a variety of amenities such as meal plans, laundry facilities, common areas for socializing and studying, and even sports facilities. It's also worth noting that accommodations are typically divided by gender, and some universities may also offer specific residences for athletes.
Remember, living on campus can provide a unique opportunity to fully immerse oneself in university life, meet new people, and engage in a diverse array of cultural and social activities. Living off-campus, on the other hand, may offer more privacy and independence.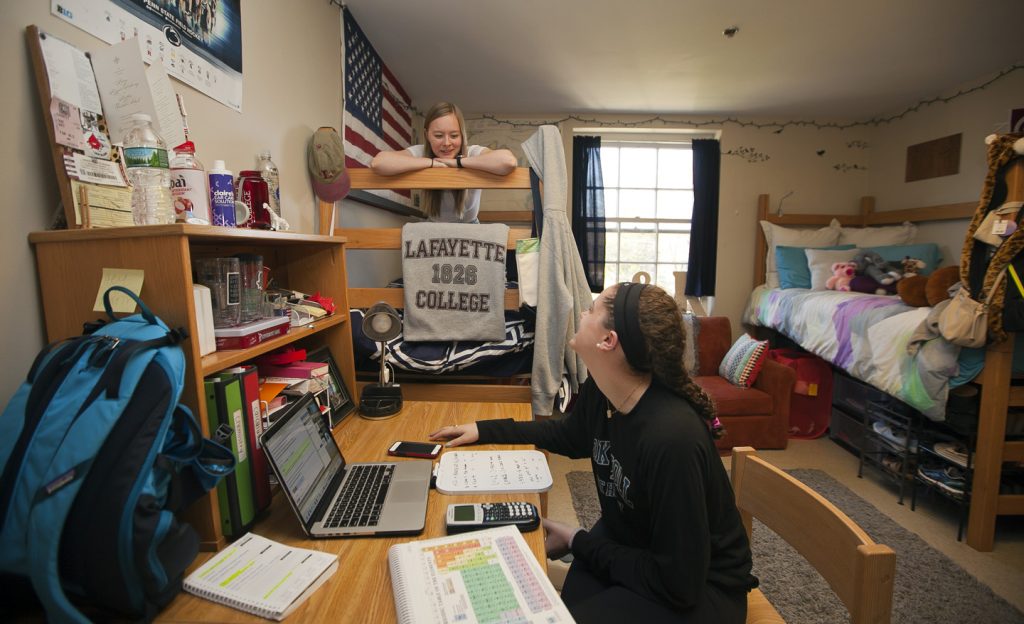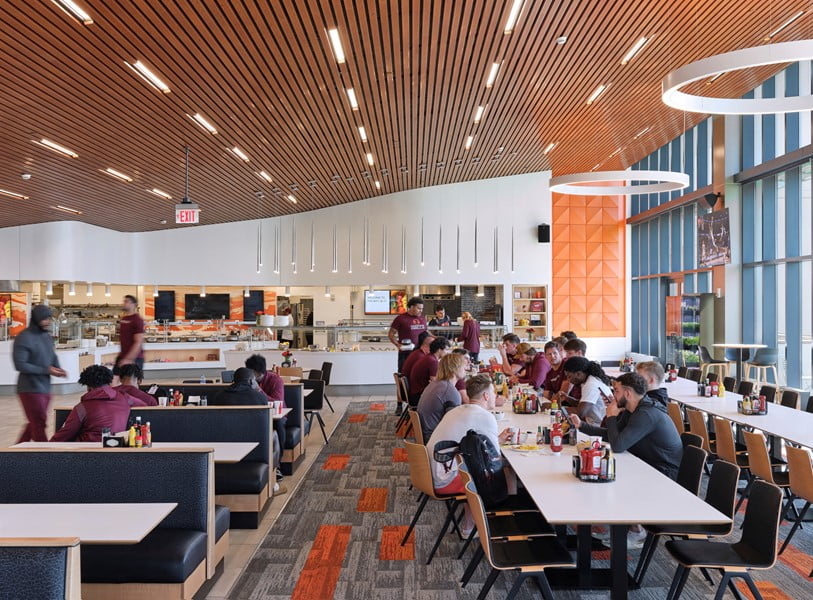 Dining halls are an essential part of the university experience, especially for students living on campus. They are typically large, cafeteria-style facilities where students can eat meals throughout the day.
Dining halls offer a wide variety of food options to accommodate different dietary preferences and restrictions. They typically serve a range of meals from traditional comfort food to international cuisine. Salad bars, fruit stations, and dessert counters are common, as are beverage stations with coffee, tea, and soft drinks. Some dining halls may also offer vegan, vegetarian, gluten-free, or halal options.
The dining hall environment is often designed to be communal and social, with large tables and open seating arrangements that allow students to dine with friends or meet new people. They are not just places to eat, but also spaces to study, socialize, and relax between classes.
In most universities, meal plans are available to students, which provide a certain number of meals per week or semester in the dining halls. These meal plans are typically included as part of the accommodation costs for students living on campus, but may also be available for purchase by off-campus students.
Hours of operation vary but dining halls generally open early for breakfast and close late to accommodate students' varied schedules. Some universities even have dining halls that are open 24 hours a day, or offer late-night dining options.
Overall, dining halls are a central aspect of campus life, providing students with convenient, varied, and often healthy food options.
University classrooms come in all shapes and sizes, from small seminar rooms to large lecture halls, depending on the type and size of the class. They are typically equipped with a variety of teaching aids like projectors, smart boards, and in some cases, high-tech equipment for specific subjects.
Smaller classrooms often encourage interactive learning experiences where students can engage in group discussions, presentations, and collaborative work. Larger lecture halls are commonly used for introductory classes with a high number of students. Despite the size, these classes often offer opportunities for student engagement through in-class discussions, group projects, and online forums.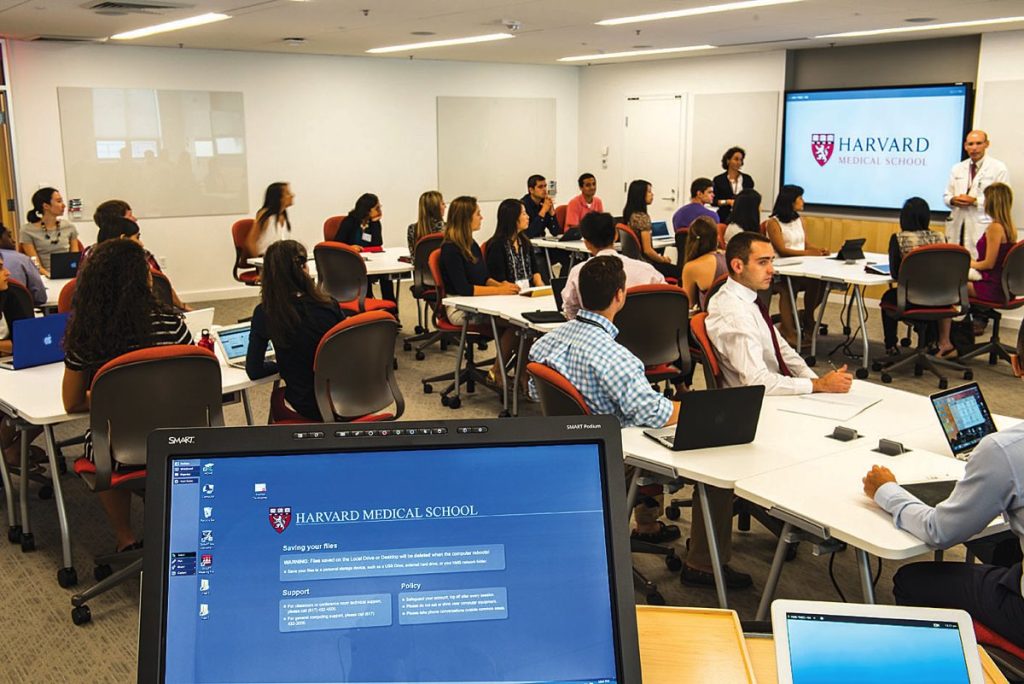 University libraries are much more than just collections of books. They are comprehensive resource centers that provide access to academic journals, research databases, and digital resources, as well as quiet study spaces, group study rooms, and sometimes even cafes and lounges for relaxation.
Libraries often offer a range of services to support students' academic work. These may include research assistance, writing centers, and IT support. They also often host workshops on topics like effective research strategies, citation practices, and academic writing.
In the digital age, libraries have evolved to provide online access to many of their resources, allowing students to utilize their services remotely. This is particularly useful for research and studying outside of the library's physical operating hours.
Furthermore, university libraries often have extended hours during examination periods to accommodate students' study schedules, with some operating 24/7.